Riverview Natural Burial Ground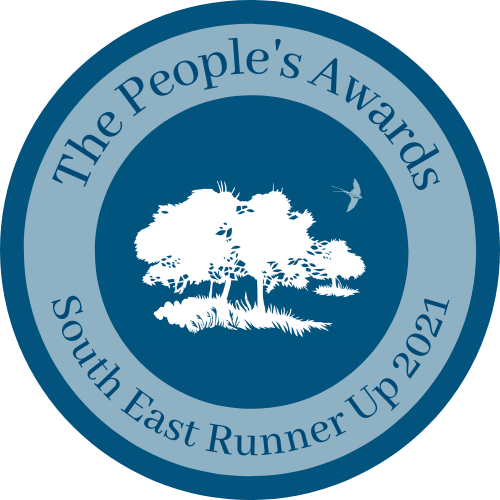 Riverview is Kent Natural Burial's new site, opened April 2019.  Their first site Deerton, on the other side of Sittingbourne, sold out after twelve years of service and is only open to those who hold a pre-purchased plot or who are joining someone already buried there.
This new, elevated site has far reaching views, north, over the Swale estuary and the Thames beyond.  It is intended that the site should develop visually in a similar way to Deerton.  Families are welcome to visit Deerton to understand how the new site will look in just a few years once the new landscaping and memorial tree planting settles in and becomes established.  Riverview has the option to extend over further land in time enabling it to serve the natural burial needs of the Medway towns and north Kent communities long into the future.  The site sits high above a tidal creek with all the interesting bird species this brings in.  You can also see large numbers of dragonflies here in the summer months.
Sian, the manager, continues to receive the highest praise from the families who she helps (as witnessed by the feedback forms monitored directly by the Association of Natural Burial Grounds). She is relieved that the planning permission and ground work on the new site is now in place so that a continuity of provision is available in the area.  She will be pleased to show you around and share her vision of how it will all develop over time.
Plots are available as needed but may be reserved and purchased in advance. People of all faiths or none are welcome and no extra charge is made for non Kent residents.
Coffins must be biodegradable and only native memorial trees are planted.  A large car park is open on burial days with a smaller one open at all times.    
A phone call will enable us to do all we can to be of service.
If you have feed back on this site please complete our Feedback form
Site Address Wardwell Lane

Correspondence address The Stables, Culnells Farm, School Lane, Iwade, Kent, ME9 8QL

Families can help to dig the grave

Families can backfill the grave

Memorials Trees, Entry in Memorial Book

No appointment necessary to visit burial ground

Visiting opening hours At all times

On site facilities Car Park, WCs

You may choose whichever funeral director you wish

Friends and family can undertake all or part of the funeral service themselves

Completely natural, biodegradable coffin materials