Crossways Woodland Burials, Exeter, Devon
On the edge of Dartmoor with stunning views, easy to find and approximately 10 miles west of Exeter, this burial site is set on a family farm.
The emphasis is on enviromental measures with the long-term aim of becoming deciduous natural woodland.
The grass is mown only in the autumn, which gives a softer appearance but enables a larger diversity of wildlife than a more manicured site; birds, insects and small mammals are very much in evidence.
There is a wooden cabin that will provide shelter on the days when Dartmoor shows it's more elemental side complete with a sedum roof and composting toilet.
With as few rules as possible the aim is to enable you to personalise to your own requirements.
If you have feedback on this site please complete our Feedback form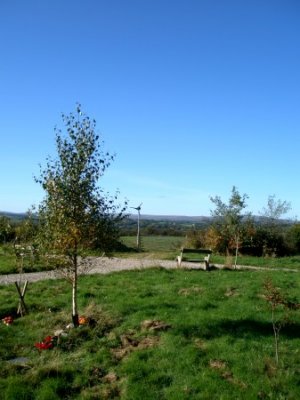 Contact Martin and Julie Chatfield

Site Address Cheriton Bishop

Combined burial and ashes plots

Families can backfill the grave

Memorials Trees, Benches, Memorial Stone, Timber Plaque

No appointment necessary to visit burial ground

Someone is available to guide visitors with appointment

Visiting opening hours 24/7

On site facilities Car Park, Shelter, Log Cabin, WCs

You may choose whichever funeral director you wish

Friends and family can undertake all or part of the funeral service themselves

Completely natural, biodegradable coffin materials

The future of the site, its maintenance and management
To be put into a trust when closed to new residents.