Hay Meadow Burials, Llandrindod Wells, Powys
Hay Meadow Burials is a unique green burial ground set in the hills of rural Mid Wales.  A secluded, peaceful place off a country lane away from any disturbance being completely on its own, having no immediate neighbours.
The hay meadow is not consecrated; we welcome any faith, religion or belief making it suitable for everyone.
You can decide how you would like your service to be. Make it as simple or as traditional as you like.
Plots can be purchased in advance, singly or in family groups. Some plots have the option of trees.
In future, the field will continue to be farmed as it is now, the meadow will also provide a crop of hay in late summer for the sheep which live on the farm.
If you have any feedback on this site please complete our Feedback Form.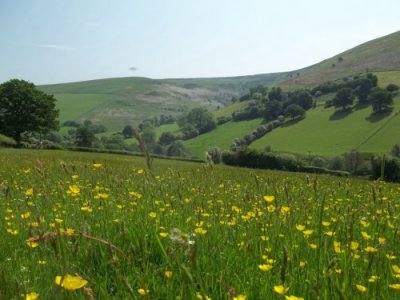 Contact Richard and Sarah Vale

Site Address Busnant farm

Site manager Richard and Sarah Vale

Combined burial and ashes plots

Families can help to dig the grave

Families can backfill the grave

Someone is available to guide visitors with appointment

Visiting opening hours Daylight hours

On site facilities Car park

You may choose whichever funeral director you wish

Friends and family can undertake all or part of the funeral service themselves

Plots can be purchased in advance

Completely natural, biodegradable coffin materials