Fenns Meadow Green Burial Ground, Whitchurch, Shropshire
Fenns Meadow is part of Alkington Grange Farm, which has been farmed by the Blantern family for 3 generations. Previously a thriving Dairy Farm, Alkington Grange has had to move and change with the times. Fenns Meadow itself sits within a pastureland of 10 acres.
Fenns Meadow is positioned on high ground, facing a North Westerly direction, perfect for watching the beautiful sunsets that regularly occur. The views from the site stretch across to North Wales, Cheshire and Liverpool. The Llangollen Canal borders the western side of the farm and it is close to the SSSI's of Fenns and Whixhall Mosses.
We offer the sale of plots within our meadow for natural burials and the internment and scattering of ashes.
If you have feedback on this site please complete our Feedback form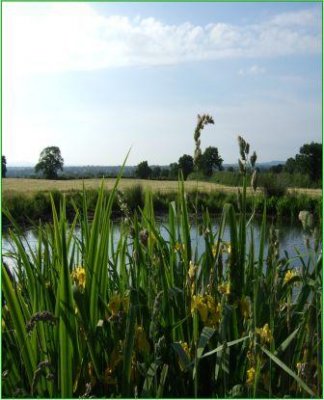 Contact Emma & James Blantern

Site Address Alkington Grange

Telephone 01948 880002 or 07968 447540

Families can help to dig the grave

Families can backfill the grave

Memorials Trees, Benches, Entry in memorial book and website entry page

No appointment necessary to visit burial ground

Visiting opening hours Free access via public footpath

On site facilities Car Park, Wc(s), Barn for gathering available upon request

You may choose whichever funeral director you wish

Completely natural, biodegradable coffin materials

The future of the site, its maintenance and management
Will become a charitable trust long term. Maintenance and management carried out by owners of site