Tarn Moor Memorial Woodland, Skipton, North Yorkshire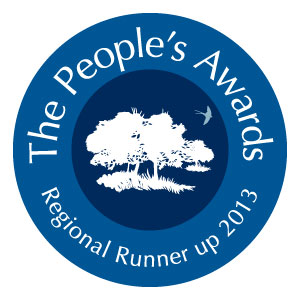 Regional Runner Up in Yorkshire
in
The People's Awards for the Best Natural Burial Ground in the UK 2013
The Memorial Woodland is situated to the east of Grassington Road (B6265) being adjacent to the Craven Heifer Country Inn. BD23 3LA.
Elevation and location give long reaching panoramic southerly views over the adjoining hills and fells, being located at the commencement of the Pennine Dales Area. The Memorial Woodland has so far utilised some 4 acres within an overall site of 10 acres of grassland with the adjoining further land currently being used for arable purposes. 300 burials have taken place since opening in 2002
Planting & Maintenance: Unlike many other woodland burial sites presently in existence, which are ostensibly an extension of an existing traditional cemetery, Tarn Moor Memorial Woodland is created from a virgin site, a former meadow, and is planned from the outset with indigenous broad-leaved woodland as its objective some fifty years down the line.
The areas of tree planting will ultimately leave mature, naturally spaced, indigenous broadleaves within areas designated as woodland. The whole of the 10-acre site has a planned outcome with areas of open space, meadow, woodland and conservation.
The wild flower meadow area for scattering of cremated remains has now come to fruition and we continue to use sheep to graze around the burial areas, being both natural and practical. The importance of the site management, to show the long term plans as a woodland.
Our object is to offer clients choice, whether it is where buried (full or cremated remains), casket type, ceremony and personal involvement.
If you have feedback on this site please complete our Feedback form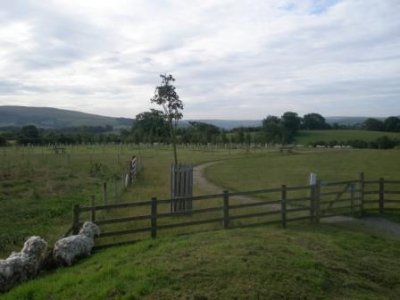 Site Address Grassington Road

Telephone 01729 840065 / 07878 799589

Correspondence address 16 Ribblesdale estate, Long Preston, Skipton. N' Yorks, BD23 4RD

Families can help to dig the grave

Families can backfill the grave

Memorials Memorial Stone, Individual Trees

Someone is available to guide visitors with appointment

Visiting opening hours Dawn - Dusk

On site facilities Car Park, Shelter, Wc's

Offer a complete funeral service including transport

You may choose whichever funeral director you wish

Friends and family can undertake all or part of the funeral service themselves

Plots can be purchased in advance

Completely natural, biodegradable coffin materials

The future of the site, its maintenance and management
There is a long term management scheme, including tree p;anting, pond, wildflower meadow and memorial area.

Awards Winner of the Cemetery of the Year Award 2009