South Yorkshire Woodland Burial Ground, Sheffield, South Yorkshire
The South Yorkshire Woodland Burial Ground has been described as the most beautiful cemetery in the area.
The triangular site, which is just over two and a half acres, and has now been open for about ten years, can be found on a quiet country lane running between the villages of Ulley and Aston-cum-Aughton, to the east of Sheffield, less than five minutes drive away from junction 31 of the M1.
The Woodland Burial Ground is surrounded by fields and has a small stream running along its boundary with the neighbouring field.
Families who have loved ones buried there often remark how tranquil the site is - an oasis of peacefulness, and yet so near to Sheffield, Rotherham and the motorway network.
If you have feedback on this site please complete our Feedback form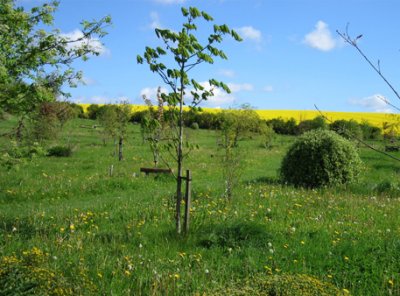 Site Address Turnshaw Road

Site manager Peace Funerals

Correspondence address Gleadless Mount, Sheffield, South Yorkshire, S12 2LN

Families can help to dig the grave

Families can backfill the grave

Memorials Trees, Stone Plaque

No appointment necessary to visit burial ground

On site facilities Car Park

Offer a complete funeral service including transport

You may choose whichever funeral director you wish

Friends and family can undertake all or part of the funeral service themselves

Completely natural, biodegradable coffin materials

Veneered chipboard / MDF coffins Allowed