Southfield Lane Cemetery, York, Yorkshire
Our natural burial ground is managed on ecologically sound lines, to provide an informal nature-rich environment for peaceful reflections on our own lives and those of our loved ones who rest there. People of all faiths are welcome.
The use of eco-friendly coffins and ashes caskets ensure that no damage is done to the environment. The sowing of wildflower seeds and the planting of bulbs is encouraged throughout all the changing seasons, the beauty of nature is apparent and timeless: the spring of the year, so pretty with blossoms, new green and promise; summer, with sunlit dappled leafy shades; the vibrancy of autumn and drama of the winter landscape. Wildlife, birdsong and a carpet of wildflowers amid native trees provide a peaceful resting place.
The funeral of a loved one is a time of sadness and grief; however, a natural burial can also be a time to celebrate life in that it is a very positive way in which to put life back into the environment following death. The natural burial ground will be managed ecologically and left an
undisturbed haven for flora and fauna.
If you have feed back on this site please complete our Feedback form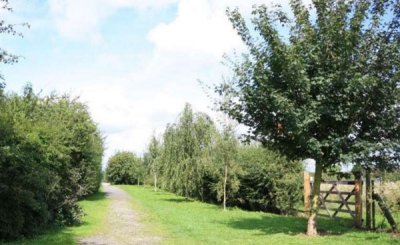 Site Address Southfield Lane, Rufforth

Site manager Rufforth with Knapton Parish Council

Correspondence address Bradley House, Bradley Lane, Rufforth, York, YO23 3QJ

No appointment necessary to visit burial ground

Visiting opening hours 8am - 6pm

On site facilities Car Park, Water Tap, Bins

You may choose whichever funeral director you wish

Friends and family can undertake all or part of the funeral service themselves

Completely natural, biodegradable coffin materials

The future of the site, its maintenance and management
The site is maintained by Rufforth with Knapton Parish Council with funds from fees from the formal burial ground and the natural burial ground.