Janice Thornton West Yorkshire
I write funeral ceremonies with an approach that it is your ceremony not mine. My job is to help you to have the ceremony that suits you best within the time available.
I am happy to deliver the whole ceremony myself or include the people that you want to speak, sing or do a reading. I often read out pieces written by family members or friends and can advise on different approaches to celebrating the life of your loved one.
I aim to provide a spiritual and appropriate farewell that reflects the personality of the deceased without including hymns or prayers.
I also conduct Memorials and Ceremony of Remembrance.
I provide a printed copy of the ceremony, am happy to email it to you and will produce a copy in large print or recorded on CD to enable access to the ceremony.
Fee: £155 + travel over 20 miles (45p mile over the first 20 miles)
Affiliation organisation: British Humanist Association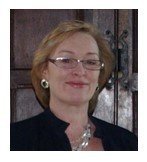 Telephone Tel: 01274 584654, Mob: 07954 574767