Nottingham, A.W. Lymn The Family Funeral Service, Notts
Our head office has been associated with this site since 1915, and athough we moved into Robin Hood House on Robin Hood Street in 1977, many people still think of this office as 'Lymn's on Bath Street'.  The office is staffed 24 hours a day, 365 days a year, but the doors are actually open from 08:00 to 18:30 Monday to Friday, and from 09:00 to 13:00 Saturday.
Most of the administration is based here, but we also have 13 qualified Funeral Directors on site to help with any funeral related enquiries.
Our main Funeral Directors, aside from Nigel, Jackie and Matthew Lymn Rose, are Tony Knowles, Antonio Lione and Mark Ridout, all of whom are qualified and experienced.  Barbara Williamson has been the welcoming face of the office for many years now, and they are all assisted in the office by Natalie Baldwin.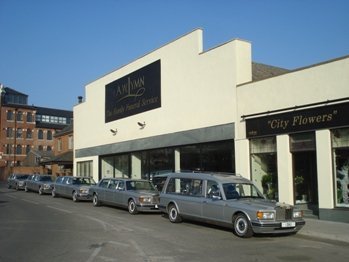 Site Address Robin Hood House