Heathfield, Heathfield Funeral Service, East Sussex
Heathfield Funeral Service, an independent family owned funeral directors and stonemasons, whose relationship with the public through Kent and Sussex has always been valued and of the highest quality. The sister business of C Waterhouse & Sons established in 1926 and based in neighbouring Burwash, it shares the company mantra being "Let Our Family look after Your Family,"   Heathfield Funeral Service in particular serves the population of Heathfield, a small market town in the parish of Heathfield and Waldron in the Wealden District within the historic County of Sussex. It is actively run by the Waterhouse Family joined by a team of 13 experienced and trusted staff.
They are available 24 hours a day, 365 days a year serving a large area and as an independent family firm, Heathfield Funeral Service has the freedom to serve their clients' needs in the most appropriate way for them, offering guidance and support in making the right decisions. Whilst the sense of loss bereavement brings can be very hard to bear, it is this company's aim that each of their families has a positive experience and is left with some heartening memories.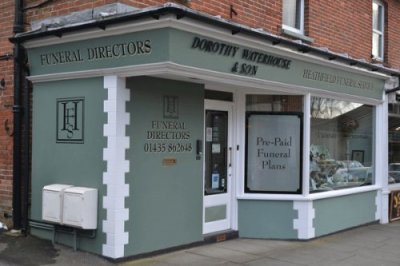 Site Address Hailsham Road