Oxford, The Individual Funeral Company
The Individual Funeral Company is Oxford's newest independent funeral director and we think we are unlike other funeral directors in Oxfordshire.
We believe in honesty and transparency which is why we don't have curtains in the windows and everything in our window display has a price on it. While you can look through the window at our clock to see what the time is, we know that when making funeral arrangements privacy is important. This is why we have a separate arranging room and separate viewing room. We are also happy to carry out arrangements in your home at no extra charge.
The Individual Funeral Company also believes that people are not gold, silver or bronze packages and we won't treat you like one. This isn't just a form filling exercise for us. We want to listen to what you would like us to do and then exceed your expectations. We are able to arrange a more traditional funeral service or arrange something unique, bespoke and eco-friendly. We make sure we have some innovative and special products for every budget.
Because we are an independent company, we don't have quotas to fill or targets to meet. Nothing is more important than giving you good, honest advice and all the time you need to make decisions about the funeral service you would like. This is why some of our suppliers have their own links on our website and in view of our honesty; we have also put our prices online too.
Another thing that makes us different to other funeral directors, is that we also offer a per hour rate for those that are carrying out the funeral themselves, but find they may need a hand with one aspect of the funeral. For example, the only thing you would like me to do is arrange the paperwork for the Crematorium. You may just wish to buy a coffin from us or would like us to look after the deceased until the funeral. Whatever level of service you require from us, let me assure you that we will always undertake our duties with absolute dignity, respect and pride.
Our offices are open Monday to Friday 9am to 5pm and Saturdays 10am-2pm (on trial until January) although other times are available by appointment. We operate a 24 hour service and work every day of the year. Let our family take care of yours any time of the day or night.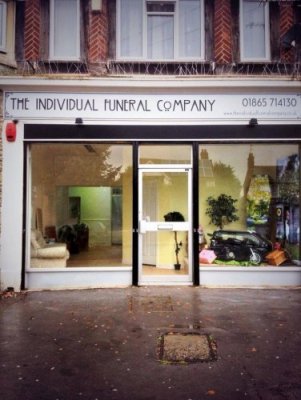 Correspondence address 86 Rose Hill, Oxford, OX4 4HX