Oxford, D.L. Hancock LTD, Oxfordshire
D. L. Hancock Ltd is an independent, family-owned and run funeral directors, based in Oxford and Bicester. We are one of the very few funeral firms left who are an independent family owned funeral directors who are not a part of any co-operative or dignity group. We are dedicated to carrying out a personalized service to meet the individual wishes of each family. Every detail is considered in planning the funeral for your loved one, so that we can celebrate the life of, and make the day a special day of remembrance. The funeral of a loved one can be a daunting experience in trying to arrange, we cover all religions and beliefs, as a family firm we are willing to assist families at whatever level they wish, from simply removing their loved one from a hospital to our funeral home and the family then taking over the arrangements to advice on DIY funerals right up to dealing with all aspects of funeral directing, we are here to assist you and help you at whatever level.

Darren Hancock is the Funeral Director, assisted by Mr Simon Williams (Assistant Funeral Director), we have a number of staff that cover the offices', who are all experienced and caring staff, providing a dedicated and professional service to our clients. Each member of our staff has been highly trained to deal with clients in an understanding and empathetic nature in times of great distress.
We take pride in our funeral homes, in Bicester we live on site above the offices and chapels, so your loved one is here with us all the time in our home which offers comfortable surroundings in which to discuss arrangements. Our Oxford Funeral home is situated in the middle of Headington in Oxford on the London Road and offers the same tranquil peaceful ambiance throughout. Alternatively, we are happy to visit you in the privacy of your own home, at any time. We will always talk to you about costing and how a funeral account is set out and we work with you and your budget to be able to provide the type of funeral you want at a price that is affordable.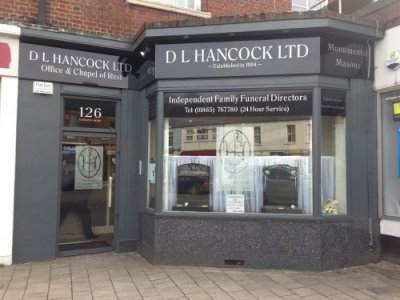 Correspondence address 126 London Road, Headington, Oxford, OX3 9ED