Westmill Woodland Burial Ground CIC, Watchfield, Oxfordshire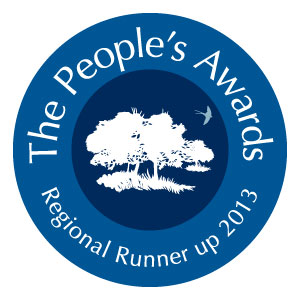 Regional Runner Up in South West England
in
The People's Awards for the Best Natural Burial Ground in the UK 2013
Westmill Woodland Burial Ground is a simple 3 acre site in the midst of our organic farm on the Oxfordshire/Wiltshire border. It has magnificent views up to the Downs and the ancient Uffington White Horse and is surrounded by rolling farmland. It is being planted with mixed English trees with glades, pathways and some open meadow areas around the site. There is a small Roundhouse suitable for ceremonies or for sitting and listening to the larks or having a picnic.
We hold regular Open Days and produce a bi-annual newsletter to keep everyone in touch. We plant trees together once a year and have started a willow bower with honeysuckle and wild rose growing up it. Liz is a celebrant and so can offer this support if needed. There are no individual memorials on plots but a shared memorial stone has been placed in a grass circle and individual plaques will be laid in a spiral around the stone from autumn 2014. 
If you have feed back on this site please complete our Feedback form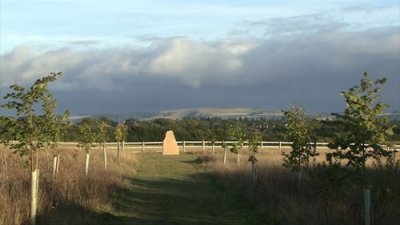 Site Address nr Westmill Farm

Correspondence address Colleymore Farm, Coleshill, Highworth, Swindon, SN6 7PU

Combined burial and ashes plots

Families can help to dig the grave

Embalmed bodies are accepted for burial

Families can backfill the grave

Memorials Separate memorial area

No appointment necessary to visit burial ground

Someone is available to guide visitors with appointment

Visiting opening hours 24/7

On site facilities Car Park, Shelter, WC in nearby farmyard

You may choose whichever funeral director you wish

Friends and family can undertake all or part of the funeral service themselves

Plots can be purchased in advance

Completely natural, biodegradable coffin materials

Veneered chipboard / MDF coffins Allowed

The future of the site, its maintenance and management
Adam Twine the land owner runs the burial ground with his partner Liz Rothschild. The burial ground is a Community Interest Company i.e. it is a not for profit enterprise aiming to support the community.