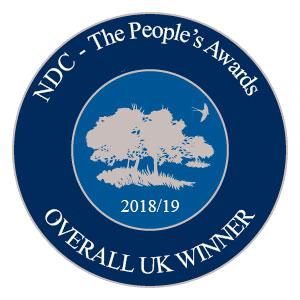 Higher Ground Meadow in Dorset
Best Natural Burial Ground in the UK 2018

Higher Ground Meadow
Background to The People's Awards for
The Best Natural Burial Grounds in the UK
These awards are different to any other kind of assessment of green cemeteries, they are not about how sustainable each site is, the facilities that are available or the way the land is managed; the People's Awards are all about the people involved, the level of service they provide, the personal touches and the impact that each natural burial ground manager has made on the famiies of those who they have helped to bury.
The
Code of Conduct of the Association of Natural Burial Grounds
requires members to provide families arranging funerals with them an opportunity to complete a NDC
Feedback Form
which is returned directly to the Natural Death Centre headquarters. We receive dozens of these forms every week, the vast majority praising the burial grounds and the people involved. Any concerns or complaints are instantly responded to and reported back to the ANBG member concerned.
Earlier this year, almost 1,000 forms received from families who had funerals at one of the ANBG member sites during the previous year were scrutinised by the trustees and staff of the NDC. The results were logged and analysed, and after many hours of work, a winner and a close runner up in each of the eight qualifying regions across the UK were identified. 
Regional Winners and Runners Up 2018