Your support will help us to support others
As a charity, we rely entirely on donations and support from people who share our ethos.
If we have been able to help you or your family please consider helping us to continue our work.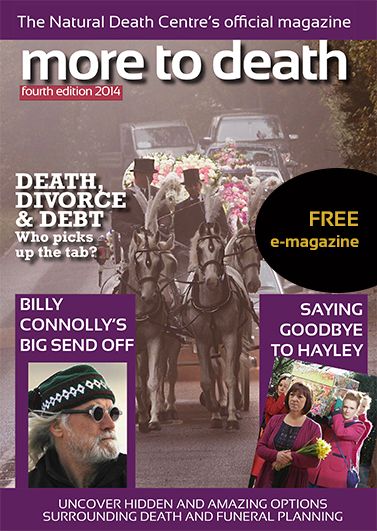 Please share the link to our e-zine More to Death 
Please contact us at contact@naturaldeath.org.uk if you would like to recieve this magazine by email
Join The Natural Death Society
The new Natural Death Society has been set up by the Natural Death Centre to bring together people who share the same belief in our human right to approach death with the same freedom that we live our lives.
Open to everyone to join, the Society has been created to spread the word about choice and to promote improvement in the process of dying and in the arrangements for funerals, to challenge society's acceptance that we cannot care for our dead ourselves, and to take away the fear of the discussion of death and dying.
By joining the Society, you will be supporting the continuing work of The Natural Death Centre, the Charity that pioneered the natural death movement across the world. For more information , click here.

Donate
To make a donation to the NDC, simply donate online or send a cheque and to us. If appropriate, please Gift Aid your donation by printing and completing this gift aid donation form
The optional extra Gift Aid donation may allow the Natural Death Centre to reclaim tax if you pay UK taxes.
You can make a donation by Credit/Debit Card, Cheque, Postal Order or Direct Debit. Please remember to make all cheques, postal orders and CAF Vouchers payable to:
The Natural Death Centre.
Leave us a Legacy
Some people choose to bequeath the Natural Death Centre some money in their Will. If you have already made a Will, simply fill in the codicil form and leave it with your Will or send it to the person looking after your Will - without stapling it or attaching it to your Will in any way. Your signature will need witnessing by two people who do not stand to benefit from your main Will or from the codicil.
Attend events or fundraise for us
Supporters of the NDC hold regular Death Cafes and other events - for more information please see our Events page. 
If you would like to hold a fundraising event for us, please let us know and we will help publicise it for you.
THANK YOU FOR YOUR KIND SUPPORT