Do you believe that death is a natural part of life?
Do you feel we should all be empowered in the process of dying and of organising a funeral?
Why don't you join The Natural Death Society?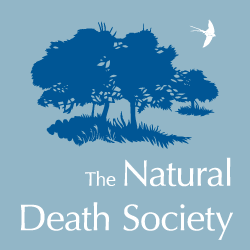 The Natural Death Society has been set up by the NDC to bring together people who share the same belief in our human right to approach death with the same freedom that we live our lives.
Open to everyone to join, the Society has been created to spread the word about choice and to promote improvement, both in the process of dying and in the arrangements for funerals, to challenge society's acceptance that we cannot care for our dead ourselves, and to take away the fear of the discussion of death and dying.
By joining the Society, you will be supporting the continuing work of The Natural Death Centre, the Charity that pioneered the natural death movement across the world.
In return, you will receive:
• A complimentary copy of the fifth edition of The Natural Death Handbook, published June 2012 (Three book box set, RRP £24.00)*
• A Natural Death Centre Information Pack, including invaluable documents and guidance for those contemplating their own death or that of someone close to them.
• A membership lapel pin.
Subscription
It costs just £20.00* as an initial subscription, and then £2.00 a month thereafter (minimum12 months) to become part of this unique new community of people, united with the same desire - a better way of death.
* Please note that any non UK residents wishing to join the Society will be asked for an additional donation when joining to cover the costs of international postage of the Handbook.
All money received from subscriptions will be used to further the work of the Natural DeathCentre, funding our telephone Helpline, and helping us to reach people in need of our help and advice.
(If you are a UK Taxpayer and complete a Gift Aid declaration, your subscription will go 20% further! click here for gift aid form)
If you have already bought a copy of The Natural Death Handbook and would still like to join the society please choose from the following dropdown options:
We think Nicholas Albery would approve... 
Below, in the handwriting of the late founder of the Natural Death Centre, Nicholas Albery, is his writing 'Everybody needs a tribe'.
On the 21st anniversary of the founding of the charity, it is a fitting tribute to Nicholas that we are creating a new tribe - The Natural Death Society.
A transcript of Nicholas's words is underneath the photo.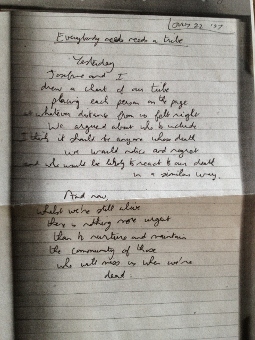 'Everybody needs a tribe'
Yesterday
Josefine and I
drew a chart of our tribe
placing each person on the page
at whatever distance from us felt right
We argued about who to include
I think it should be anyone whose death
we would notice and regret
and who would be likely to react to our death in a similar way.
And now
whilst we're still alive
there is nothing more urgent
than to nurture and maintain
the community of those
who will miss us when we're
dead.
Nicholas Albery
July 22 1997