Quick Links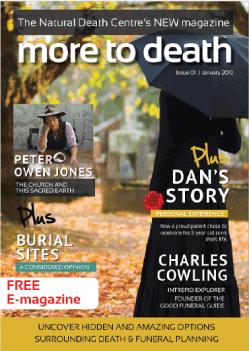 Leaflets and forms
How do i arrange a good funeral?
Questions to ask a funeral director
Frequently asked questions about natural burial
Natural burial ground feedback form
Our work is only possible through the generous support of people like you. Please consider making a donation to ensure we can help the next family who call on us.

Created with Admarket's flickrSLiDR.
Photos showing the arrival of 300 boxes of the Fifth Edition of The Natural Death Handbook at the charity's headquarters in May 2012. Additional images were taken at 'Death Fest' at the Southbank Centre 27-29th January 2012, where we spoke to hundreds of people and with their help created a bejewelled pink coffin.
The People's Awards

 

It has been many years since the Natural Death Centre held the People's Awards for the Best Natural Burial Ground in the UK - but this year they are back, and the 2013 regional winners can now be revealed.

We are delighted to list the eight natural burial grounds below as the winners in their part of the country. Winners were selected using scoring and comments from over 1,000 families who carried out a natural burial during the last three years at one of the member sites belonging to The Association of Natural Burial Grounds.

 

Regional Winners 2013

 

South East England   

South Downs Natural Burial Site

 

South West England

 

East Midlands

The Willows Natural Burial Ground

 

West Midlands

 

Yorkshire

 

Northern England

 

Wales

Green Lane Burial Field & Nature Reserve

 

Scotland

 

Select any of the winning sites to see some of the comments made by families who chose them as the final resting place for someone they loved.

Three independent judges will select the overall UK winner, to be announced in June.

 

 

Background to The People's Awards

 

These awards are different to any other kind of assessment of green cemeteries, they are not about how sustainable each site is, the facilities that are available or the way the land is managed; the People's Awards are all about the people involved, the level of service they provide, the personal touches and the impact that each natural burial ground manager has made on the famiies of those who they have helped to bury.

The Code of Conduct of the Association of Natural Burial Grounds requires members to provide families arranging funerals with them an opportunity to complete a NDC Feedback Form which is returned directly to the Natural Death Centre headquarters. We receive dozens of these forms every week, the vast majority praising the burial grounds and the people involved. Any concerns or complaints are instantly responded to and reported back to the ANBG member concerned.

Earlier this year, over 1,000 forms received over the last three years were scrutinised by the trustees and staff of the NDC. The results were logged and analysed, and after many hours of work, a winner and a close runner up in each of the eight qualifying regions across the UK were identified. 

 

Regional Runners Up 2013


South East England

 

 

 

 

 

 

 

 

 

 

 

 

 

 

 

 

 

 

 

 

 

 

 

 

 

 

 

 

 

 

 

 

 

 

 

 

 

 

 

 

 

 

 

 

The New Natural Death Handbook fifth edition is out now, this book is a must read for everyone. Completely revised and expanded into a boxed set of three books... Read more

Credit to Will Whipple (photographer)

 

Are you considering a natural funeral?

CTVC - an award winning, non-profit television production company - are researching for a documentary about DIY funerals for Channel 4. We specialise in producing responsible films about sensitive subjects and hope to raise awareness about the alternative options to high costs funerals... read more

______________

 

Much-Loved is a registered charity that helps you create a unique and beautiful memorial website to commemorate the life of a loved one. It only takes a couple of minutes to set up and personalise in your own choice of design and it can be kept online for ten years without any charge.
To create your own memorial website to your loved one please visit MuchLoved

You may find more useful information on this government website.