Quick Links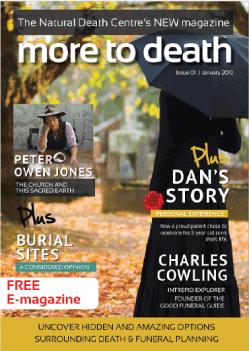 Leaflets and forms
How do i arrange a good funeral?
Questions to ask a funeral director
Frequently asked questions about natural burial
Natural burial ground feedback form
Our work is only possible through the generous support of people like you. Please consider making a donation to ensure we can help the next family who call on us.

Created with Admarket's flickrSLiDR.
Photos showing the arrival of 300 boxes of the Fifth Edition of The Natural Death Handbook at the charity's headquarters in May 2012. Additional images were taken at 'Death Fest' at the Southbank Centre 27-29th January 2012, where we spoke to hundreds of people and with their help created a bejewelled pink coffin.
List of Natural Burial Grounds

Golden Valley Woodland Burial Ground, Alfreton, Derbyshire

Set in a tranquil corner of the wooded Golden Valley Country Park, near Ripley, in Derbyshire, this Woodland Burial Ground is truly special, being the only one in the country that has a preserved steam railway line running alongside.

The Woodland Burial Ground is just under one acre in size and is accessed by a footpath that goes into the Country Park from behind the Newlands Inn at Riddings, near Ripley.

If you have feedback on this site please complete our Feedback form

Site Address Newlands Road


Site manager Peace Funerals


Correspondence address Gleadless Mount, Sheffield, South Yorkshire, S12 2LN


Families can help to dig the grave


Families can backfill the grave


Memorials Trees, Stone Plaques


No appointment necessary to visit burial ground


On site facilities Car Park


Offer a complete funeral service including transport


You may choose whichever funeral director you wish


Friends and family can undertake all or part of the funeral service themselves


Completely natural, biodegradable coffin materials


Veneered chipboard / MDF coffins Allowed


 

The New Natural Death Handbook fifth edition is out now, this book is a must read for everyone. Completely revised and expanded into a boxed set of three books... Read more

Credit to Will Whipple (photographer)

 

Are you considering a natural funeral?

CTVC - an award winning, non-profit television production company - are researching for a documentary about DIY funerals for Channel 4. We specialise in producing responsible films about sensitive subjects and hope to raise awareness about the alternative options to high costs funerals... read more

______________

 

Much-Loved is a registered charity that helps you create a unique and beautiful memorial website to commemorate the life of a loved one. It only takes a couple of minutes to set up and personalise in your own choice of design and it can be kept online for ten years without any charge.
To create your own memorial website to your loved one please visit MuchLoved

You may find more useful information on this government website.