Quick Links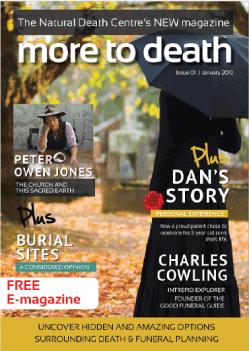 Leaflets and forms
How do i arrange a good funeral?
Questions to ask a funeral director
Frequently asked questions about natural burial
Natural burial ground feedback form
Our work is only possible through the generous support of people like you. Please consider making a donation to ensure we can help the next family who call on us.

Created with Admarket's flickrSLiDR.
Photos showing the arrival of 300 boxes of the Fifth Edition of The Natural Death Handbook at the charity's headquarters in May 2012. Additional images were taken at 'Death Fest' at the Southbank Centre 27-29th January 2012, where we spoke to hundreds of people and with their help created a bejewelled pink coffin.
List of Natural Burial Grounds

Swanlow Park Cemetery, Winsford, Cheshire

 

 

Regional Runner Up in The North of England

 

 

The People's Awards for the Best Natural Burial Ground in the UK 2013

 

 

The environment of our green area is kept as natural as possible and is a scenic and peaceful setting. It is a permanently managed area that is as natural as possible and will provide a safe refuge for birds and wildlife and will allow wild flowers and trees to thrive.

Each grave space is marked with a natural york stone marker and a memorial tree. Wild flowers and bulbs can also be planted on the grave space. Pre-purchasing of your plot is available if you so wish for a burial or cremated remains. We are always pleased to welcome visitors to look around our Cemetery.

 

If you have feedback on this site please complete our 

Feedback form

Site Address Swanlow Lane


Telephone 01606 592662 / 07774 746732


Families can backfill the grave


Memorials Trees, Benches, Memorial Stone, Other


The site is manned full time


Visiting opening hours 9am - Dusk


On site facilities Car Park, WCs


You may choose whichever funeral director you wish


Friends and family can undertake all or part of the funeral service themselves


Completely natural, biodegradable coffin materials


Veneered chipboard / MDF coffins Allowed


The future of the site, its maintenance and management
Managed to mature into a natural setting with plenty of scope for extending the site in future years.


 

The New Natural Death Handbook fifth edition is out now, this book is a must read for everyone. Completely revised and expanded into a boxed set of three books... Read more

Credit to Will Whipple (photographer)

 

Are you considering a natural funeral?

CTVC - an award winning, non-profit television production company - are researching for a documentary about DIY funerals for Channel 4. We specialise in producing responsible films about sensitive subjects and hope to raise awareness about the alternative options to high costs funerals... read more

______________

 

Much-Loved is a registered charity that helps you create a unique and beautiful memorial website to commemorate the life of a loved one. It only takes a couple of minutes to set up and personalise in your own choice of design and it can be kept online for ten years without any charge.
To create your own memorial website to your loved one please visit MuchLoved

You may find more useful information on this government website.