Quick Links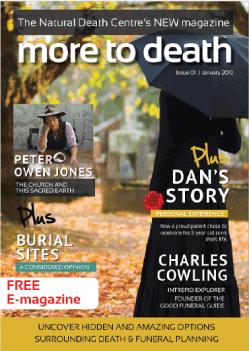 Leaflets and forms
How do i arrange a good funeral?
Questions to ask a funeral director
Frequently asked questions about natural burial
Natural burial ground feedback form
Our work is only possible through the generous support of people like you. Please consider making a donation to ensure we can help the next family who call on us.

Created with Admarket's flickrSLiDR.
Photos showing the arrival of 300 boxes of the Fifth Edition of The Natural Death Handbook at the charity's headquarters in May 2012. Additional images were taken at 'Death Fest' at the Southbank Centre 27-29th January 2012, where we spoke to hundreds of people and with their help created a bejewelled pink coffin.
List of Natural Burial Grounds

St Albans Woodland Burial Ground, Keysoe, Bedfordshire

The Trust provides woodland burial located within 50 miles of the M25
in beautiful countryside at Keysoe in Bedfordshire. Surrounded by 60
acres of trees in community woodland, this is an ideal setting. This
is not a commercial cemetery; the woodland is owned by a Charitable
Trust. There are no paid staff, the Trust is managed and operated
entirely by people committed to the principles of a natural woodland
burial.

The woodland is made available for all and we will go out of our way
to assist you to make the arrangements of your choosing. We are
enthusiastic about our woodland and we are sure that you will
understand why if you are able to visit this beautiful place. We
always welcome visitors and can arrange to meet you on site if you
would like to discuss anything about the woodland or make
reservations.

If you have feedback on this site please complete our Feedback form

See location on Funeralmap.co.uk

Correspondence address St Marks Church Community Centre, Calder Rise, Bedford, MK41 7UY.


Combined burial and ashes plots


Families can help to dig the grave


Families can backfill the grave


Memorials Tree planting schemes, Timber Plaques, Benches, Entry into Memorial Book, Website Entry


No appointment necessary to visit burial ground


Someone is available to guide visitors with appointment


Visiting opening hours Daylight Hours


On site facilities Car Park, WCs


You may choose whichever funeral director you wish


Friends and family can undertake all or part of the funeral service themselves


Completely natural, biodegradable coffin materials


The future of the site, its maintenance and management
The site has been consecrated by the Diocese of St Albans, this provides the greatest protection in English Law to ensure future protection of the woodand. The Charity provides ongoing supervision and maintenance.


 

The New Natural Death Handbook fifth edition is out now, this book is a must read for everyone. Completely revised and expanded into a boxed set of three books... Read more

Credit to Will Whipple (photographer)

 

Are you considering a natural funeral?

CTVC - an award winning, non-profit television production company - are researching for a documentary about DIY funerals for Channel 4. We specialise in producing responsible films about sensitive subjects and hope to raise awareness about the alternative options to high costs funerals... read more

______________

 

Much-Loved is a registered charity that helps you create a unique and beautiful memorial website to commemorate the life of a loved one. It only takes a couple of minutes to set up and personalise in your own choice of design and it can be kept online for ten years without any charge.
To create your own memorial website to your loved one please visit MuchLoved

You may find more useful information on this government website.